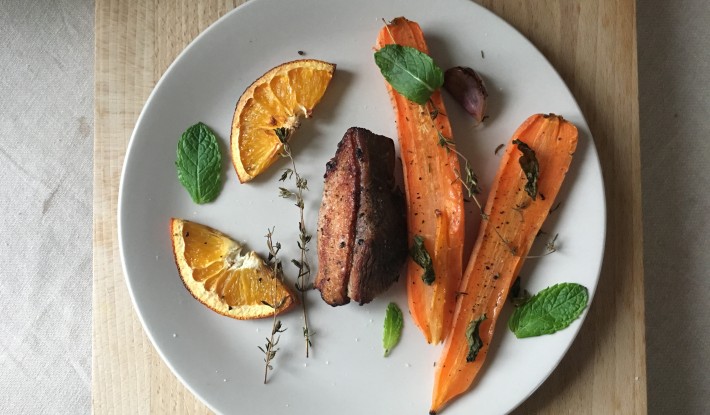 Ingredients
2 Medium Duck Breast Fillets
300g Carrots
4 Cloves of Garlic
2 Oranges
1tbsp vegetable oil
1tbsp Lemon juice
1 Organic Vegetable Stock
Sprigs of Thyme
Mint Leaves ( to roast )
Sea salt
Preparation
1. Heat the oven to 200 degrees.
2. Put vegetable oil in to pan and heat, place duck skin side down and cook on high heat for 1-2 minutes until skin is golden brown.
3. Turn heat off and let duck rest.
4. Cut carrots in to halves and place on to tray along with garlic cloves, thyme, sea salt, mint leaves. Crumble stock and add oil.
5. Cut oranges in so slices and decorate edge of tray with slices.
6. Place duck on tray and roast all for 30 minutes or until done.
7. Take out of the oven and leave to rest for five minutes before adding additional sea salt and orange juice.