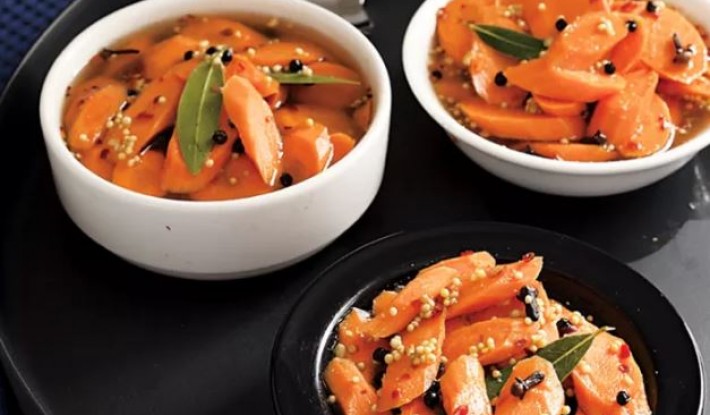 Ingredients
2 cups white wine vinegar
1 1/4 cups sugar
2 tablespoons salt
1 tablespoon coriander seeds
1 1/2 tablespoons mustard seeds
1 tablespoon whole black peppercorns
8 whole cloves
1 bay leaf
1 tablespoon crushed red pepper
5 large carrots, sliced on an angle 1/4 inch thick
Preparation
1. In a large, nonreactive saucepan, bring 2 cups water, vinegar, sugar, salt, coriander seeds, mustard seeds, peppercorns, cloves and bay leaf to a simmer over medium heat, stirring to dissolve the sugar.
2. Cook for 5 minutes. Add the crushed red pepper and let steep for 5 minutes then strain.
3. Place the carrots in a large stainless steel or glass bowl.
4. Add the hot pickling liquid, weighing the carrots down with a plate if necessary to submerge.
5. Let sit until the mixture comes to room temperature.
6. Serve the carrots with some of the liquid.