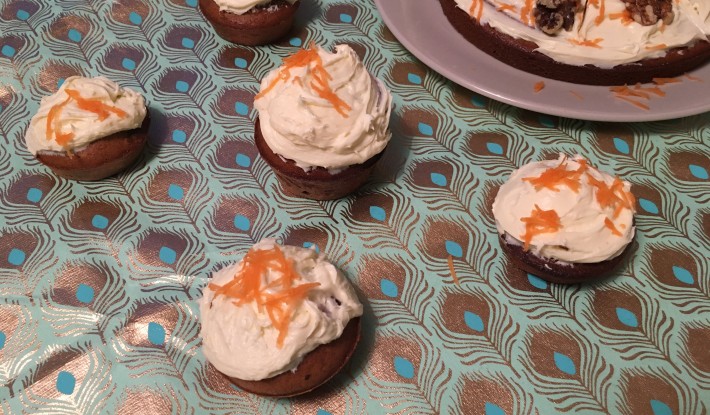 Makes 12
Ingredients
300g Caster Sugar
4 Eggs
300g Grated Carrot
50ml Oil
150g Walnuts
250g Wholemeal Flour
1tsp Baking Powder
1tsp Cinnamon
1tsp Cocoa powder
1tsp Ground Ginger
1 drop Vanilla Extract
Ingredients for Frosting
150g Salted Butter
150g Cream Cheese
280g Vanilla Icing Sugar
Preparation
1. Preheat oven to 180 degrees and prepare tray for cup cake cases ( tray can be metal or rubber )
2. Mix the sugar and oil together and after adding eggs until mixture is  smooth.
3. Add vanilla extract, grated carrot and crushed walnuts to mix.
4. In a separate mixing bowl add flour, spices & baking powder.
5. Empty mixture in to cupcake cases and put in to oven.
6. Cook for 25 minutes or until golden brown.
7. Whilst baking prepare frosting by mixing butter cream cheese and sugars in a food processor until mix is light and fluffy.
8. Pipe mixture on to baked cupcakes and finish with light fresh grated carrot.